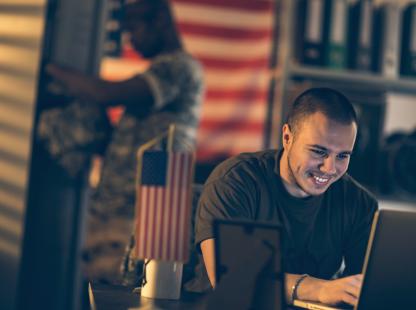 Curriculum
Air Force ROTC cadets are required to take 16 credits of Aerospace Studies courses.
The classes are taught by active duty Air Force officers in the Cadre, and supplement the courses cadets take toward their bachelor degree. Each one is open to any student at NJIT.

1st Year - Aerospace Studies 100
Fall - Foundation of the US Air Force I (AS 111)
Spring - Foundation of the US Air Force II (AS 112)
1 credit
Due to the changing nature of the Air Force and inputs from many AFROTC detachments, the AS100 curriculum has gone through several changes. The most obvious change is that we have introduced an overall strategy to the entire course. With the understanding that a very small portion of the audience is on an AFROTC scholarship and that many are curious, sitting on the fence, or wondering if this is worth the long-term commitment, we have crafted the curriculum to educate students on what the Air Force is, what the Air Force can offer, and what traits we will begin cultivating in them so that they may be effective leaders inside or outside the Air Force.
The AS 100 Level Courses are designed around "Heritage and Values of the United States Air Force," is a survey course designed to introduce students to the United States Air Force and provides an overview of the basic characteristics, missions, and organization of the Air Force.
Great effort has been made to keep the classroom setting from turning into a lecture. Discussion questions, video clips, games, and group projects have been included and though they take a few more minutes to prepare for, the educational dividends will more than reward your effort. Most lessons build on what is found in the student reader; familiarize yourself with what they're responsible for to help add to your lesson. Additionally, effort has been made to write in opportunities where students can work together as small teams in the hope that it will not only enhance the understanding of the lesson and keep the classroom energetic, but also help build relationships among the students that will enhance their overall AFROTC experience.
---
2nd Year * - Aerospace Studies 200
Fall - The Evolution of USAF Air and Space Power I (AS 221)
Spring - The Evolution of USAF Air and Space Power II (AS 222)
1 credit
The AS 200 Level Courses are designed around "Team and Leadership Fundamentals," focuses on laying the foundation for teams and leadership. The topics include skills that will allow cadets to improve their leadership on a personal level and within a team. The courses will prepare cadets for their field training experience where they will be able to put the concepts learned into practice. The purpose is to instill a leadership mindset and to motivate sophomore students to transition from AFROTC cadet to AFROTC officer candidate. 

* Note: This course may be taken at the same time as an AS 100 course.
---
3rd Year - Aerospace Studies 300
Fall - Air Force Leadership Studies I (AS 333)
Spring - Air Force Leadership Studies II (AS 334)
3 credits
The AS 300 Level Course is designed around "Leading People and Effective Communication," teaches cadets advanced skills and knowledge in management and leadership. Special emphasis is placed on enhancing leadership skills and communication. Cadets have an opportunity to try out these leadership and management techniques in a supervised environment as juniors and seniors.
---
4th Year - Aerospace Studies 400
Fall - National Security Affairs I (AS 443)
Spring - Preparation for Active Duty II (AS 444)
3 credits.
The AS 400 Level Courses are designed around "National Security Affairs/Preparation for Active Duty," is designed for college seniors and gives them the foundation to understand their role as military officers in American society. It is an overview of the complex social and political issues facing the military profession and requires a measure of sophistication commensurate with the senior college level. The final semester provides information that will prepare the cadets for Active Duty.